Major Features and Popular Workflows of Rhino 3D
Rhino (also known as Rhino 3D and Rhinoceros) is used worldwide by creative design professionals across all design disciplines - from small scale objects such as jewellery through to large scale architectural and urban projects. It is the perfect modeller if you are designing for production – no matter what the scale.
Rhino is built on industry standard NURBS geometry – the pre-eminent geometry type in other major software in the design, engineering, and AEC sectors. Rhino also has a full set of Mesh and SubD tools and supports a wide range of file in/out formats meaning that model data can easily be exchanged with collaborators and customers.
Whilst Rhino itself is a fully featured program, and in many cases could offer all that you need, there are hundreds of available plug-ins that extend the core functionality. Some of these plug-ins are industry specific offering, for example, enhanced architectural workflows or jewellery specific commands whilst some are more generalised such as photorealistic visualisation.
Rhino Commercial Model and Community
Rhino is a democratic, affordable software and so, whether you are a small owner-operated business or a multi-national looking to deploy hundreds of licences, the Rhino solution remains cost-effective.
Unlike almost all other 3D modelling and CAD software, Rhino has technical support from the manufacturer included. There are no yearly maintenance charges and you pay only for major version releases. Software licences are purchased outright and not rented – you are under no obligation to update to the latest version. Major versions are not annual releases but are launched only when significant new or improved features are production ready and interim service releases are included free of charge. For instance Rhino v7 had 34 x free service releases over a 34 month period.
As well as Rhino being a hugely different commercial model to other 3D modelling and CAD software, the developers, McNeel, have a refreshingly unusual and ethical approach to business. There is no conventional marketing; you will not see advertisements for Rhino in the CAD press or traditional corporate sponsorship to push the Rhino brand. McNeel are very honest about any problems and limitations within Rhino and all development of new product is done publicly – so if you own a license of the current version of Rhino you get access to the WIP and Beta versions of the next Rhino. Many of the programmers and technical staff at McNeel have a design or architectural background and all contribute to the free included technical support.
All the above engenders a very vibrant and supportive Rhino user community that is constantly feeding back ideas to the developer. As a user you can literally help to shape the future of Rhino – whether you are a student, sole trader, or senior partner at a large architectural practice your feedback is equally important to McNeel.
Created for Creatives - The User is in control
Rhino has a lightweight, unconstrained interface that allows the designer to work quickly and accurately in 2D or 3D space in a natural, non-prescriptive manner. This freedom of working allows the designer to concentrate on shape and form rather than battling against a set of predetermined software constraints and limitations. Once understood (and yes, we recommend training) the Rhino interface becomes almost transparent allowing you as the designer to concentrate on the shape, form, and detail of your project.
Although Rhino allows complete freedom when modelling it is nonetheless extremely accurate and can hold extremely tight tolerances for production and transfer to other CAD processes. Because Rhino uses an industry standard NURBS geometry core you can be sure that your models will retain their integrity whilst being moved downstream to production.
Rhino excels at creating and describing complex 3D forms and surfaces. The robust NURBS surfacing tools allow complete control of shape and form and easy matching of tangency and curvature to adjacent surfaces. Modelling History allows surfaces to be adjusted whilst neighbouring surfaces automatically adjust and maintain their set matching. A complete set of analysis tools allows surfaces to be evaluated visually or mathematically ensuring that both aesthetic and manufacturing requirements can be met.
A more recent development is the introduction of a complete, spline based, SubD toolset. This surfacing methodology allows for the easy creation and adjustment of freeform and organic forms that can sometimes be challenging to model using a conventional NURBS methodology. Put simply, the designer is in control of the shape and form and Rhino looks after the continuity. Rhino v8 adds more control to SubD forms with 'Weighted Creases' and additional snapping capabilities.
Of course, not all designs require complex sculptural forms and to this end Rhino has a great set of direct modelling tools to create basic planar solid geometry, and a full set of solid modelling tools many of which now maintain a level of adjustability. Rhino v8 adds true 'Push-Pull' editing, 'Auto C-Plane' functionality and additional Gumball editing features that significantly simplifies and speeds up the process of solid editing.
Finally, Rhino contains a set of more pragmatic tools that can help with reverse engineering and creating viable models from inherited bad geometry - these tools include QuadRemesh and ShrinkWrap which is new in Rhino v8.
Learn about ShrinkWrap in Rhino 8 with our video tutorial
Models, 2D Drawings and Visuals all in one document
Creating great geometry is only part of the design process – your idea needs to be communicated effectively to co-workers and customers. Rhino has several different viewport 'presentation' modes including a Raytraced Rendered mode where physically accurate transparency, translucency, reflections, and refractions can be calculated. There is also the ability to create camera animations such as turntable, path and fly-through.
Rhino v8 adds 2D Clipping Sections that update as the 3D geometry is changed and, in terms of creating 2D drawings, Rhino has a complete 2D drafting and annotation environment with a toolset and commands that will be familiar to users of other popular 2D drafting software. These drawings can be output via printer, plotter or files such as PDF.
In Rhino your 3D model, visualisations and 2D production drawings can all be created and controlled in a single document.
Collaborative Workflow
Most creative professionals realise that they need more than one software solution. McNeel understands this too and Rhino is not marketed as part of a 'vertical solution' or a 'suite' of products: Rhino is designed for collaboration with other software.
Rhino reads and writes files from most major graphics, design, modelling, and engineering applications. So, for example, your Rhino project might start with importing 2D drawings from AutoCAD, graphics from Adobe Illustrator and 3D engineering parts from SolidWorks and end with sending files to a 3D Printer and toolmaker using PTC Creo.
Rich Plug-In Environment
Rhino is a general-purpose 3D modelling tool with excellent 2D drafting capabilities and great visualisation tools. There are, however, hundreds of plug-ins available for Rhino that extend this core functionality.
Popular rendering and visualisation products such as V-Ray, KeyShot, Maxwell Render and TwinMotion all either plug-in or link to Rhino giving the ability to create photorealistic visuals and immersive animations. Industry specific plug-ins such as VisualArq for Architecture and CrossGems for Jewellery Design extend Rhino's functionality to include industry specific workflows.
Not all the plug-ins available for Rhino are 'commercial' and many are available for free including such popular plug-ins as Panelling Tools and Trace. You can find out more about all Rhino plug-ins at www.food4rhino.com
Grasshopper and Beyond
Unlike many solid modellers, Rhino is not natively parametric and for many modelling tasks, particularly where a design is still in development, this is advantageous. Nearly all Rhino commands are History aware, meaning that associations between, for example, a set of curves and a surface built from them can be maintained but this is not a true parametric relationship. Rhino uses Grasshopper, its built-in visual programming interface, to create parametric and generative workflows. Grasshopper itself has a plug-in architecture allowing for many cutting edge features to be added, for example Kangaroo - a live physics engine. Grasshopper is now extremely popular especially in industries such as Architecture and, just like Rhino itself, has a vibrant and supportive user community.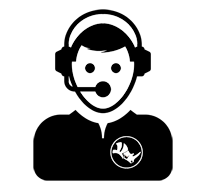 Do you have a question for our Rhino team? Contact us now, we're always happy to help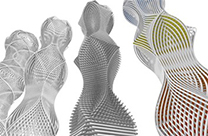 Interested in improving your Rhino 3D skills? Then learn about our training options
Free Rhino video tutorials? Watch a selection of our Rhino tutorials here
Ready to buy?
You can purchase online at the Rhino Webstore for fast-delivery
Interested in our Rhino and Formlabs events? Find out about upcoming events at Rhino3d.co.uk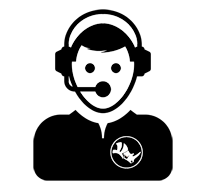 Do you have a question for our Rhino team? Contact us now, we're always happy to help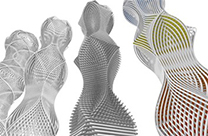 Interested in improving your Rhino 3D skills? Then learn about our training options
Free Rhino video tutorials? Watch a selection of our Rhino tutorials here
Ready to buy?
You can purchase online at the Rhino Webstore for fast-delivery